Tateyama Kurobe Alpine route opening from Apr 15th
Tateyama Kurobe Alpen Route 2020
Full route opening period: April 15th – November 30th
Partial route (Dentetsu Toyama – Midagahara) opening period April 10th – 14th
2020 SNOW WALL FESTIVAL (Enjoy summer snow only in Tateyama Kurobe Alpine route)
■Opening period
From Apr. 15th to Jun. 22nd (Fee: FREE)
■Opening hours
9:30am-3:00pm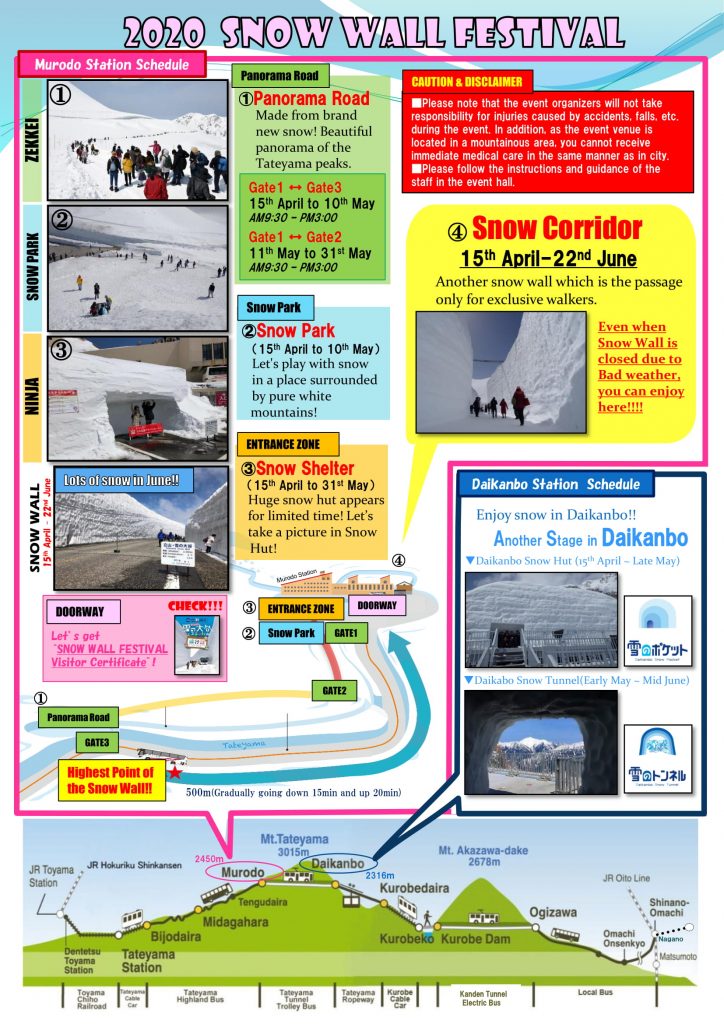 This photo is taken from the website of Alpine route
For visitors from abroad who enter Japan under the entry status of "Temporary visitor" Tateyama kurobe option ticket (one-way only) could be a good choice for you.
For those who departure from Nagoya, we recommend the Alpine – Takayama – Matsumoto area tourist pass. With this ticket you can enjoy sight-seeing around Gifu and Nagano from Nagoya: Tsumago Juku, Matsumoto castle, Takayama, Hida Furukawa, snow wall Murudo, Kurobe Dam, Mikuriga Crater lake (Murudo)… This is an unlimited rides on JR local and limited express trains along the route as well as all transportation means of the Alpine route for 5 consecutive days.
For a better price you can buy the ticket via travel agent outside Japan. For details please visit https://touristpass.jp/en/alpine/
If you would like to start the route from Omachi, our hotel Iidaya will be a convenient accommodation for you. It is only a one-minute walk from our hotel to the JR Matsumoto station. From here you can take the train to Shinano Omachi station to start the Alpine route.
For room reservation and other information please visit our home page.
NAGANO, MATSUMOTO
HOTEL IIDAYA